Knives Chisels Accessories Home
The Mini Set
Our interchangeable mini set is one of our best sellers
. The set is ideal to take on the go or leave on your bench. The tools are perfect for adding detail and need only stropping for maintenance.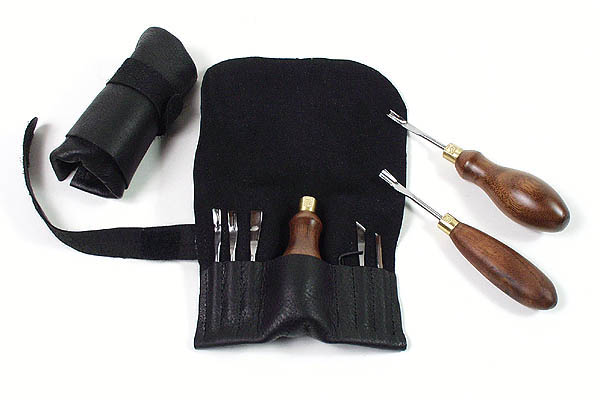 The interchangeable set comes with your choice of blades, handle and handy leather pouch that will fit in your pocket. The blades available are: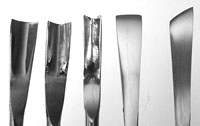 #3 gouge,#5 gouge,#9 gouge, v-tool,
straight or skew

The tools average 3/16" to 1/4" in width and the overall length is 6" handled. This is the perfect set for adding detail to any project. Best of all only stropping is needed to maintain the edge, for each tool is hand forged and hardened to a Rockwell 62c. A Tear Drop handle is also available upon request and custom sizes available
Mini Chisel Sets
Customize
5 tools, handle & pouch $159.00 * 4 tools handle & pouch $144.00 * 3 tools, handle and pouch $124.00
If you have specific needs, just let us know. We are always happy to put together sets with the tools you will use. All tools are available separately if you would like to make your own handle or add to your existing set. For customized sets email me your desired tools and I will send along an estimate and expected delivery time. Listed above is the basic breakdown, but can vary slightly depending on choices. karyn@capeforge.com
Looking to expand your existing mini set?
Add an Extra Handle..
The Tear Drop works for both knives and chisels for it is ideal for both pushing with gouges and the pulling/pushing associated with knives. The standard is the choice if you plan on just using chisels for it fits in your palm is ideal for pushing.
Extra Standard or Tear Drop Interchangeable handle $32.00-$36.00
Or add a chisel to your existing set
or Mini knife blades for your existing set...$24.00
---
Micro Tools

Available in 1mm V-tool- 1.5mm #11 and 3mm #11
You asked for small and we are proud to offer micro chisels. Please don't ask us to go smaller, we can hardly se these while working on them. These are made like all our tools- hand forged and heat-treated to a RC62. they can be handled in our Fibron pencil shaped handle ( see detailers), our Tear Drop palm handle or they will fit in our interchangeable mini handle. These tools will hold their edge and need only stropping for edge maintenance. These tools are great for adding detail to any carvings.
Micro Tools
are available for your Mini set

or as a fixed tool
Fixed micro blades in either Tear drop style palm handle or Pencil shaped as above
With interchangeable mini handle
$62.00
Blade only with adaptor sleeve to fit your existing mini set $29.50
---