The Fine Art of Making Hand Forged Tools
We create tools the way they used to be made by hand, one at a time, with great care.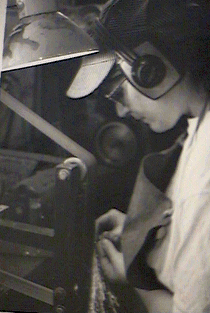 Nothing compares to a hand forged tool when it comes to quality and edge holding capabilities. The individual care that goes into each tool will become apparent whether you are a beginner or an old time carver. Our tools are all individually hand forged, unconditionally guaranteed and made to last for generations with proper care.
All our tools are forged from W1 or W2 tool steel, basic high carbon steels. The tools are forged to shape using a traditional coal fire and a power hammer. By forging the steel we are actually reducing the thickness of the steel by more than half. This step is very important for it refines the grain structure within the steel. The result is a steel that has unbeatable edge holding capabilities.
Once the steel has been forged it is then profiled to the appropriate shape and is ready for selective heat-treating. Heat treating also plays a very important role in edge holding. We heat treat our tools to 62 on the Rockwell C Scale. We heat treat to 62c because this is as hard as you can comfortably create a blade without it becoming too brittle. The tools are then triple-tempered; this relaxes the steel and gives it more toughness than the standard single temper.
The tools are handled in Angelique and sharpened to a razor edge. There are actually over 20 separate steps that goes into each blade and we are very proud to offer you a tool that will hold an edge indefinitely and need only stropping for edge maintenance. We individually test each tool to meet our standards before it is sent to you.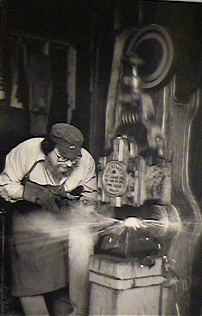 A band-aid is sent with each order as our disclaimer and a reminder that these are very sharp tools and should be handled appropriately. One thing to keep in mind, is that all our tools are completely made by hand. The basic shapes will always remain the same but you will see slight variations between the tools. You will also notice we have improved on some of our existing tools within the catalog.
We are always listening to wood-carvers and take every opportunity to implement your ideas. Our basic process has not changed; but a few shapes and the handle styles have been modified at your requests. We encourage your input and welcome your ideas. You are the backbone of great tools.
We hope you enjoy and Happy Carving!

---
1-888-310-3343
Every tool is unconditionally guaranteed!
Send Mike and Karyn an email