Custom Tool Gallery
Featuring tools that wood carvers dream up and we bring to life
We invite you to customize
You are always welcome to alter any of our tools to fit your needs. One thing we have learned is that all woodcarvers have different preferences for their tools. We are always happy to work from your specifications. We can create just about any edge tool you can dream up from adzes to egg engravers of the most unusual knife shapes. When you alter one of our existing tools the prices are generally the same, and we will always send an estimate for the unusual tools.
It certainly can't hurt to ask!
Knives Chisels Accessories Home
---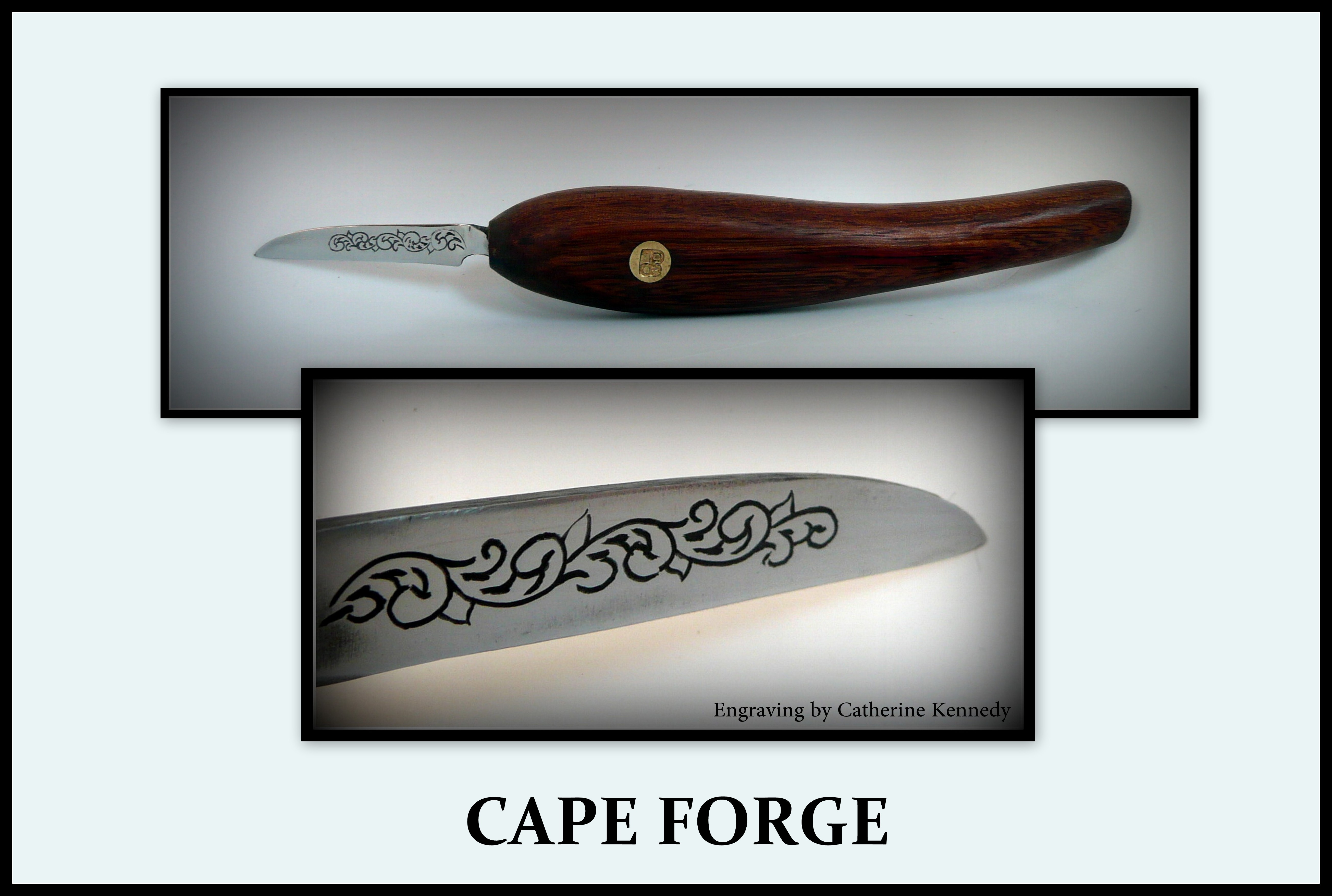 A fun collaboration with Catharine Kennedy. Her beautiful engraving is a nice addition to our knives.
---

a Variation of our Anniversary blade. Same price as our standard knives.
---
#9 Feathering Knife

Here is a fun knife I created at the request of a gentleman who was looking to help clean out under feathers. The blade is a #9 1 3/4" length, flat on the bottom and sharpened on both edges. in a Tear Drop handle shown above with a straight blade $60.00 also available with a slight bend $65.00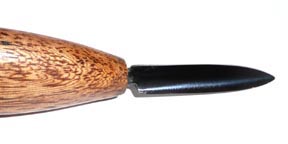 ---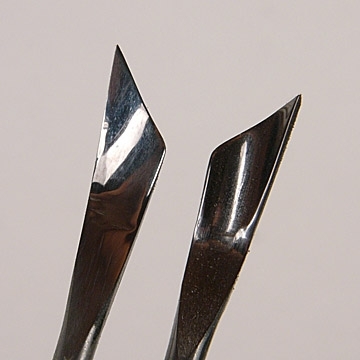 Mini Skew Gouges
We have made skew gouges in all sizes, but these are designed for your mini set. They are a #5 sweep and pictured as both right and left skews. These gouges allow you to follow curves and make cuts that need to go to one side or the other seem effortless. They can also aid in cuts with irregular grain.
The mini size skews are 1/4" in width and are $28.00 each.
---
1855 Sheffield Reproduction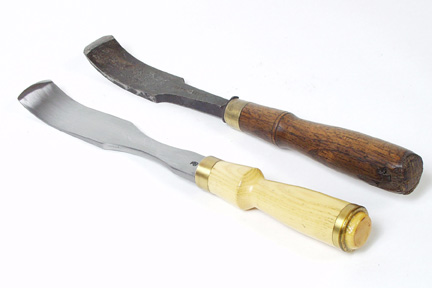 Can you tell which is ours and which is the original?
The original has been an active tool in a wood working shop for many years. They contacted us to create a duplicate and we were amazed at the similarities in our styles. The tool has a forged tang and a slight bend at the tip. The blade width is 1 1/2" and overall length of 14" handled in Ash with our "C" handle and double ferrule.
---
Here is an interesting tool we just made for a carver in the United Kingdom. He is a bird carver and this tool was designed to be used in a variety of situations. The tool has three sharp edges, so you can certainly see where it gets it's name. The tool could be quite a weapon. We had fun playing with the tool as did many folks at the Ward World Championships. Everyone just thought it looked and worked well. The cutting edge at the end is with the radius is just under 1 1/2" in length, the front edge is 3/4" + and the back edge is 1/4". The tool extends from our "D" handle about 3".
$75.00
---
AIR CHISEL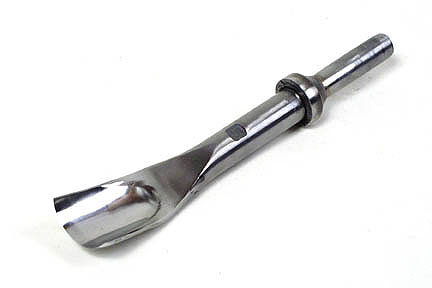 This seems to be a popular tool. Especially if you like to do big Jobs fast I mean really fast. You can hog out a lot of wood with one of these tools. designed for use with any air chisel set up ( we bought one at an automotive store for $29.95). The gentleman who ordered this one makes totem poles. We have also made them for a carousel horse carvers and fore use on interpretive work. You can imagine the possibilities.
The chisel is about 1" wide and a #7 sweep. The standard air chisel holds a 3/8" shaft. This one is forged using 1/2" stock and the shaft is turned down to 3/8" with a retaining collar brazed on. Like all our tools this one is hand forged and heat treated to a RC62c and triple tempered.
---
Violin Makers Chisel

We have been making tools for instrument makers for years. The big difference between their style of chisel and our usual tools are the shaft length. Most carving tools have a shaft length of 4"-5" , but an instrument maker uses 8"-12" shafts. They need to reach into the body and remove wood or glue to obtain the right sound. It is a fascinating art, not only are the pieces beautiful to look at, they produce beautiful sounds. A popular choice fro instrument makers is the #5 gouge with a slight bend and a 10" shaft length.
These tools are made on a limited basis. Please contact us for approximate delivery time $120.00

---
A #2 Fishtail Skew

This #2 fishtail skew was designed to be used any time a knife is just too wide. The carver we made this tool for ended up ordering two. One for smaller areas and the other for cotton wood bark removal. We have brought them to shows and everyone seems to find a new use for them and unanimously agrees that they are a great addition to any collection. The smaller blade is 1/2" wide and extends from the palm handle 3" the larger one is 3/4" wide and extends from the palm handle 3". As with all our tools stropping is all that is needed for edge maintenance and they are Unconditionally Guaranteed.
available in two sizes for small $50.00 and large $56.00each
---

Clarinet Reed Scraper
This tool was designed to adjust clarinet reeds. When woodwind musicians purchase new reeds for their instrument they adjust them by removing the slightest amount of the wood until the desired sound is achieved. This is quite an art in itself and we were pleased to produce a tool that made the job just a bit easier for the clarinetist.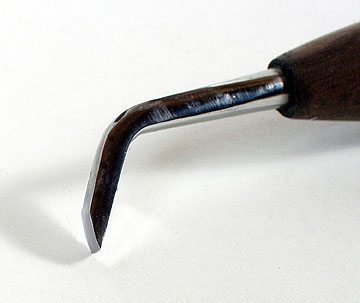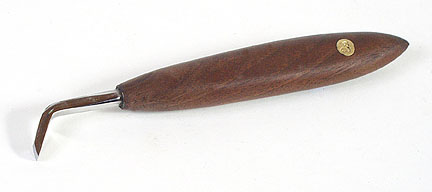 The tool extends from the handle 1 3/4" and the edge is 1/4" in width
---
Knives Chisels Accessories Home
Questions regarding custom tools call Karyn at 1-888-310-3343
or email karyn@capeforge.com